Stevie Jay is an original!
Review by Paul Nelson for The Borough News, London


An evening with Stevie Jay is like attending a therapy session with you, the audience, in the role of psychiatrist. He is an American of a similar cloth to those comical characters immortalised by the likes of Nichols and May, Mel Brooks and Woody Allen. His angst about sexual labeling, his career(s), his mother and other "patient fixations" are all treated with the same cool, calm and often humorous outlook. A Willy Loman wisecracking is delivered throughout his evening of attention, with a neurotic insecurity that makes the time go by with a swing! When he is funny—he is very, very funny.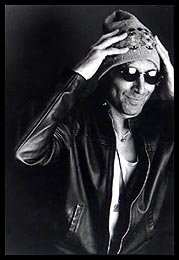 That we are listening to someone basically off the wall and with a nursery deficiency is manifest in the staging. Before he appears on stage, his cuddly toys are well in place, proof positive of his search to be well liked.
His travels through life embrace his work as a masseur (the impersonations of his female clients are truly hilarious) his search for God (when He is finally found, He is delivered by Cher-as-messenger) his aim to protect and promote his right to privacy, and his endless quest for intimacy which is both a frustrating and burnishing experience.
While he is looking for himself, he meets a remarkable series of people, some who appreciate him, some who do not. It must be a daunting experience for him to appear in London for the first time and not know which sort he is to encounter.
Stevie Jay is an original, so if anyone ever says he is a latter day Lenny Bruce (for a start, he isn't nearly as obscene, political or forceful, nor is he a prophet of doom) Mr. Jay (may I call you Stevie?) has my permission to take out a contract on him or her.
It's a very physical performance, including two sequences during which he talks his way through simulated erotic encounters. Indeed, if he had any clothes worth mentioning, Madison Avenue could be his, but he chooses to work part of the time in a near nude state. He is witty, fast, and quite an enchanting and engaging character. To hear his discourse is like accidentally overhearing the two adjacent tables in a Greenwich Village brunch joint of twenty years ago. At the end of the evening, he presents an all-stops out plea for peace, holding a tray of seven nightlights as the stage dims around him, which I found quite moving in spite of myself.
You may or may not roar with laughter, but more than likely, you will sit with a beam on your face as you watch and hear this charming entertainer called Stevie Jay. He is excellent value and I am glad I didn't miss him.
Paul Nelson
The Borough News, London