Wisecracking Prophet
Review by Toby Emert, Editor/On Stage/C-ville Weekly


We're at the Mudhouse, the setting for last weekend's production of Stevie Jay's uproarious one-man show, Life Love Sex Death and Other Works in Progress. The late afternoon sun glares through the front windows, and Stevie Jay sits close to me, hunches over a bit and launches into a poem he wrote five years ago, Miss Idaho. He's smiling and intense; there's an unmistakable mischievousness about him. "You want to hear this?" he asks, and continues reciting the poem, accompanying himself with a beat he creates by banging softly on the table.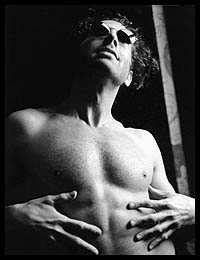 It's this poem, he tells me, that was the genesis for his foray into the arena of performance. He premiered the poem at The Virginia Festival of the Book's Poetry Slam, got a huge audience response and an invitation to perform as part of the Live Arts Salon Series. "That was magical," he muses, "it was wild. People were screaming-laughing." After that success, he was invited to create a full-length show for the L.AB space at Live Arts, and in March 1998, he rolled out his first one-man show.
Life Love Sex Death, as you'll learn if you see the show (and, by all means, you should), is a conversation—one in which Stevie Jay does all the talking. And it's good talking. On the surface, the show is a wisecracking treatise on one man's struggle to locate himself in the melee of human interaction. From the opening moment where, talking on a cell phone, he explains to his sister that he's doing a show, to his wry imitations of the women he has met as a massage therapist, to his sexy recollection of a romantic dinner with a lover who's into mind games, Stevie Jay is a consummate raconteur. He cajoles, he inspires, he does imitations, he passes little notes around to the audience, he plays with stuffed animals, he even bares his chest and has an erotic encounter with a barstool.
Beneath the surface, however, is the aching voice of a prophet whose sage observations about the trouble we have opening our hearts to each other are provocative and disturbing. "I am still learning about the woundedness of human beings," Stevie says. "The show is teaching me. Before I worked on this piece, I didn't understand it quite like I do now." He touches my arm. His eyes are full. His face opens. He smiles—a huge grin—and lets me in.
Toby Emert
Editor/On Stage
C-ville Weekly
:: stevie jay: joy and madness ::
a follow up letter
John the Baptist lost his head after he identified Jesus as a prophet. I hope Toby Emert does not meet the same fate following his equally accurate assessment of Stevie Jay in his article "Wisecracking prophet." It's also said that a prophet is never fully appreciated in his own city. That would explain why, after almost three years of breathing joy and madness into our common dialogue, no local paper has ever reviewed Stevie Jay's soliloquy on life, love, sex, and death. Leave it to C-VILLE Weekly to be the first to echo, with such extraordinary eloquence, the poignant word Stevie indiscriminately shares around his candle fire. Toby Emert's review was a stirring work of art inspired by art. I am confident that anyone listening with an open heart will also be inspired to find their own one-person extravaganza called life.

Jose Antonio Reyes
Charlottesville