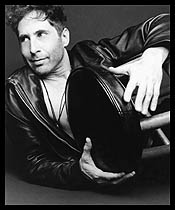 This is not just a show. It is more like a relationship. For a couple of hours in a room above a pub in Earl's Court, you simply feel as if you have just found a new best friend who is the funniest, warmest, nicest, and most fascinating man you have ever met.
He is American—which, of course means he tells you things in the first five minutes that you could celebrate a Ruby Anniversary with an Englishman and not know about him. He is barefoot. He is wired. And it seems he is really talking to you, personally—to the extent that I found myself with an almost overwhelming urge to talk back to him. Thankfully, for the rest of the audience, I quelled my urge. No other performer has ever had so personal an effect on me. Extraordinary!
He calls the evening Life Love Sex Death....and other works in progress and it is all of that and more. He quotes Erich Fromm's 'The Art of Loving', he does abdominal crunches to an appallingly funny dance mix dub of Schindler's List, he talks about dogs and life and sex and chakras. What he does on the floor with a pine barstool will make you see the possibilities of an afternoon in Ikea in a whole new light. And when his guardian angel materialises, he is called Neal. His material is un-Englishly confessional, even occasionally confrontational, but his comedic skills mean it is never California-cloyingly so.