Stevie Jay Romps Through Life's Big Deals
Review by Deborah Minsky for the Provincetown Banner


What happens when you combine elements of Eastern philosophy, Judeo-Christian tradition, massage therapy, music, dance, and raw comedy? The answer is a knockout evening by performance artist Stevie Jay, who has brought his "Life Love Sex Death and other works in progress" back to Provincetown for a two-week run, August 19-31. Described as a "multi-chakra extravaganza," the show bears little comparison to other solo theater, nor can any potential audience be fully advised in advance as to what to expect from Stevie Jay.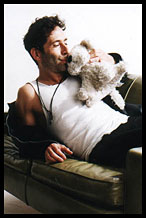 His presentation goes far beyond traditional dramatic monologue. It is more an orchestration of highly unusual physical "instruments" carefully blended into a humorous, thought-provoking, outrageous, and touching dissertation on the joys and sorrows of love pursued and often lost. In the course of a non-stop 90 minutes, he explores many of life's challenges that seem intensely personal to him even as they have some measure of resonance for all viewers.
Stevie Jay engages his audience from the very start. His tone is intimate, provocative, and at moments affectionate. One senses that this man likes people but has had to deal with his share of disappointment. He does not avoid exposing his own soul.

While much of S.J.'s material is adult in nature, there is nothing gratuitous about his performance. "Life Love Sex Death..." is for the thinking person. He draws respectfully from Elisabeth Kubler Ross and Erich Fromm, and balances this seriousness with jabs at pop psychology, the self-help movement, religious fundamentalism and the likes of Cher and Aretha Franklin. In a running patter of clarification, he throws in linguistic flourishes and offers the Latin derivation for key words and concepts.
It's all about the human condition and the frequently sorry state of our world. As Stevie Jay says by way of introduction: "Earlier today some guy said to me, 'I believe you're emotionally disturbed.' DUH! Is this something I should be ashamed of? I've known this about myself my whole life...well, you're right about me, I am, indeed, emotionally disturbed—thanks for noticing...how about you? All the times in your life you've been led on and lied to? It was disturbing, wasn't it? HOW was it disturbing to you? It was emotionally disturbing. Or the news—how do you like turning on the TV and seeing what's going on around the world? It's emotionally disturbing, isn't it?" He leaves little room for disagreement there.

Despite the apparent spontaneity of Stevie Jay's performance, it is not improvisational theater; it is all carefully scripted, with split-second adjustments for the audience present. Although his personal preferences might be perceptible, he is adept at bringing everyone in, and lambastes any tendency to categorize, label or dismiss people on the basis of appearance. He insists that love and sex are all very private, thank you, but he returns to the subject frequently and in verbally graphic detail. This paradox manages to keep the audience on edge even as it amuses us.

You might ask how any one person accomplishes all this without running out of steam? Good question, and not easily answered, unless you see the show for yourself. Don't let the opportunity to catch this major talent pass you by. It is performance art at its very best, and on balmy, late-August evenings, Stevie Jay should be playing to sell-out crowds, eager to have their minds opened while exploring deeply serious comedy.